Started writing this diary on 1/19/2014...
The spontaneous and natural reflex of India's
aam-aadmi
got trended for 3 consecutive days and became one of the most popular buzzes in Indian social media. #QuitAAP. Why? What broke the honeymoon of Dilli-ites with the Anarchist Party of India (API - AAP should have been named this) in mere a month of their assuming power? Have they now realized that AAP was a
mukhauta
? I am trying to list down 101 probable reasons that made the
aam-aadmi
utter #QuitAAP.
1.
AAP is Congress's "shikhandi front" - #AAPCon
1.2 . AAP after grabbing the gaddi , to common man's surprise, turned soft to corruption cases of outgoing Congress Govt.
1.3. Not only the outgoing Congress Dilli government, no AAP leader has ever whispered a word against the massive central scams like CWG, Adarsh, 2G, Tetra or Coalgate.Anti-corruption party? Mubarak ho.
1.4. Kejriwal who vowed to act against Sheila Dixit's corruption, and contested against her as a symbolic gesture against corrupt forces, after becoming CM with Sheila's support, asked Leader of Opposition Dr. Harshavardhan to get proofs to act against her!
1.5. Kejriwal tweeted this in Nov end. And reality? Not power hungry I guess.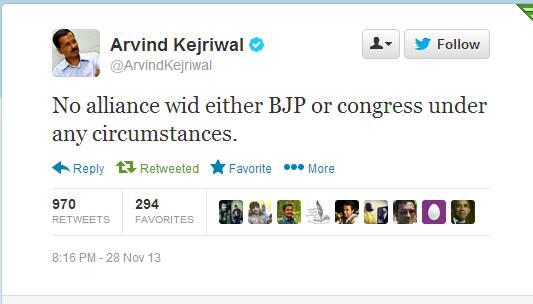 2. Dubious personalities - #AAPtard
2.6. Yogendra Yadav - Has been Rahul Gandhi's political advisor, known for being Congressman by heart, popular for seeing Rahul-wave in U.P state polls 2012 - is now primary ideologue of #AAP. He is the person who drives the Anarchists' party closer to Dynasty Party, thus may claim to have civilized the unruly one day.
2.7. Prashant Bhushan - Maoist sympathizer. Jihadi sympathizer. Wants to hand Kashmir over to terrorists of Pakistan with a referendum. Also wants Maoists to join AAP. He is their Mani Shankar Aiyar and Digvijay Singh joint avatar.
2.8. Rakhi Birla - Camera hugger. Created a hullabaloo when a stray cricket ball hit her car. Can break doors, can term everyone in system corrupt, but can't do anything to punish the corrupt.
2.9. Somnath Bharati - Lawless Law Minister of AAP. Dilli Police has been reported to file FIR against this minister for illegally harassing some Ugandan women thus creating ruckus in even international relation. Under pressure, Bharati even abuses BJP's LoP Rajya Sabha, Arun Jaitley.
2.10. Somnath Bharati has also been indicted by court of serious charges of tampering evidences for his clients. Not serious enough for a Law Minister to resign? What a law minister he is who himself is guilty of legal corruption?
2.11. Deshraj Raghav - Known ration mafia of Dilli. Official member and donor of AAP. Why not, Raghav owns 13 ration shops in Dilli. AAP decided to field him as candidate while he was facing Lokayukta inquiry. Is AAP gangajal?
3. #YoKejriwalSoShameless
3.12. Here comes the champion of hypocrisy. Kejriwal says he cannot share stage with Ramdev anymore as it would be a communal move. But Kejriwal was seen genuflecting in front of Imams in Dilli prior to polls. Deja vu?
3.13. Why did Kejriwal meet and ask for support from the infamous fatwa-man Maulana Taqreer who had issued fatwa to kill Tasleema Nasreen? Idea of India, I guess.
3.14. Can't believe this is mere courtesy.
3.15. Kejriwal promised to stop lal-batti cars, VIP culture, sarkari security. Did he? Had to return his over-spacious bungalows under pressure, with heavy heart.
3.16. Equality, my foot! Difference between someone washing Laloo Prasad's feet and this?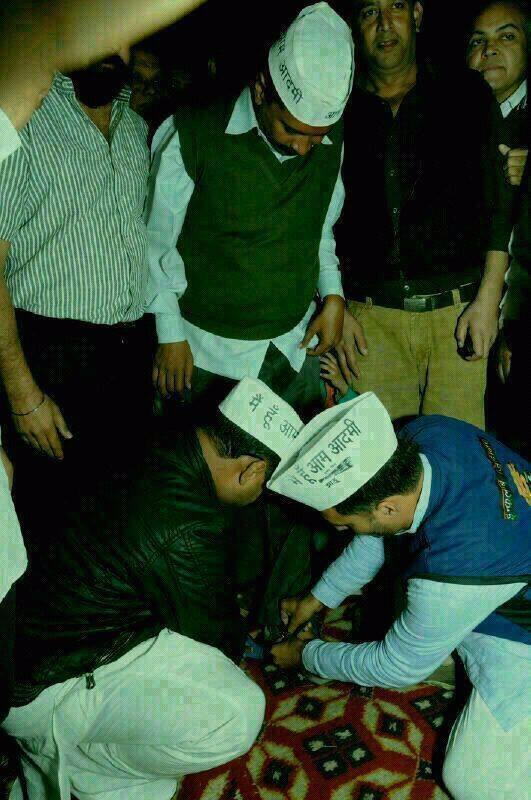 3.17. Even AAP MLA Vinod Binny accuses his own leader Kejriwal of breaking promises and acting at behest of Congress.
3.18. Kejriwal is perhaps the only CM who could not even organize a janta ka darbar properly. He couldn't even come to the people, smiled from rooftop. And fled, to avoid a "Stampede". Really? That much crowd to create a stampede? He should learn from Modi some leadership. Who did not flee from 5 Lakh crowd waiting to listen to him amidst spreading news of bomb blasts. And the way he concluded his speech, will remain a lesson in situational leadership for long time to come.
3.19. Kejriwal needs to explain why is he accepting donations from foreign nationals. Yes, foreign nationals, not NRIs or people of Indian origin. There are news, even admitted by his close aide Arundhati Roy that Kejriwal run NGO 'Kabir' received $197000 from Ford Foundation.
3.20. Kejriwal, in a move to secure Mullah votes, claimed Batla House encounter as fake. And terrorists as martyrs. Well, he was muted later by court verdict. But that exposed enough what Kejriwal stands for.
3.21. His mentor Anna Hazare, in a letter, has blamed Kejriwal and gang of siphoning funds from IAC movement. It is believed that Anna is so upset that he would not even speak to Kejriwal. Guru realizes.
3.22. Why nobody from IAC team, Anna, Kiran Bedi, Ramdev, Gen. V K Singh are standing by Kejriwal? They had opportunity to strengthen AAP, but they are now against AAP. This is what Kiran Bedi had to admit:
God save us from Chaotic AAP leadership and Corrupt Congress family. We must not waste our vote this time! It's a question of India's future
— Kiran Bedi (@thekiranbedi) January 19, 2014
3.23. Kejriwal needs to understand that he is CM. He must act and not resort to cheap street activism again. Reported on Jan 20th 2014, that Kejriwal has asked for permission to sit in dharna. LMAO. Against whom now? He claims it's against Shinde. Coalition dharna.
3.24. Kejriwal's goon fauj, that includes his criminal law minister Somnath Bharati claimed to have said that he would spit on the face of Jaitley and Sushma Swaraj. 'Civil Society' not civil enough?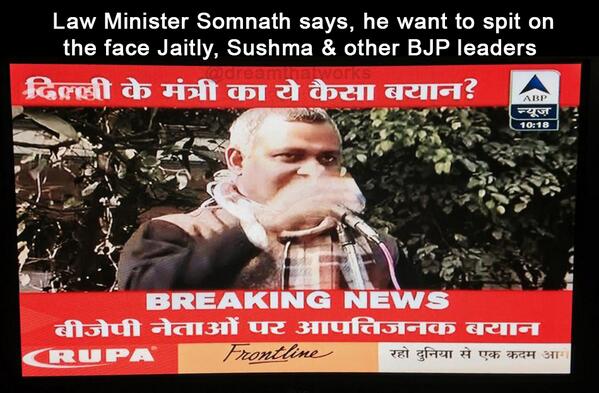 3.25. Oh...and forgot purchasing new Toyota Innova SUVs for Kejriwal and his ministers? Why not reuse the existing official cars? Ambassadors have bugs, no?
Resumed on Republic Day 1/26/2014...
4.
Main chor, Main sipahi - #AAPdrama
4.26. This is how AAP resolves charges against them. Serious charges, of bribery, forgery, cash for ticket, tampering evidences, midnight assault on women - all charges were investigated internally and absolved.
4.27. But dare not speak a word against party heavyweights. Then internal investigation will steer upon you. Rather bulldoze you.
4.28. AAP MLA Vinod Kumar Binny was expelled from party for asking a criminal Somnath Bharati to resign. Who was aam-aadmi? Who's aam-aadmi anyways?
4.29. The internal investigation department of AAP under Yogendra Yadav is as Red as that under Stalin. Good at defending the corrupt, criminals, good at beheading a single trace of dissidence, Good at hammering the so-called Red 'idea' of India.
4.30. Similar internal investigations were also carried out on Kumar Vishwas and Shazia Ilmi. Nothing found, as usual. AAP is gangajal. No crime can touch them. You are criminal only if you criticize.
4.31. AAP started with a drama, will perhaps end with a drama too. Remember the electric pole days of Kejriwal. In 2013, Kejriwal was mostly seen hanging from electric poles, reconnecting defaulter lines.
4.32. Same Kejriwal was seen (rather shown) many times on TV, being dragged along the streets. Martyr out of a mole! Who inflated him like a balloon? Ask yourself again. They are with them in forming government, and in all steps they take, like Oh Sweet Lord!
4.33. Kejriwal after becoming CM, sits on illegal dharna. But people? Where is aam-aadmi this time? Nowhere seen around. What happened? Miscalculated drama?
4.34. In 80's and 90's, CPIM the other communists used to fill Kolkata Maidan with truck loads of poor folks from Hooghly, Bardhaman and 24 padganas, by alluring the scantily stuffed stomachs with maachh-bhaat. During Kejriwal's January'14 dharna also had similar few dozens shipped from Haryana.
4.35. But what did he achieve? Did Dilli Police come under Dilli State? Did Home Minister Mr. Shinde make any promise? Then why did he call the dharna off in a few hours? Did he realize at last that #AAPDrama does not get digested well by aam-aadmi? Better he does.
5. Dilli Police. Should it be under AAP Government? OMG!
5.36. Dilli is the National Capital. It must be under direct supervision of a Federal agency. And not State Govt. Most global capitals are protected in this way.
5.37. Hence, Dilli's Law and Order is not mere state subject. And it can not be granted to be under Lawless people.
5.38. Dilli houses the President, the Parliament, Central Cabinet, MPs, headquarters of national corporations, security bodies, foreign embassies. Will you agree to shift Dilli Police responsibility to AAP Govt? Perhaps only a sane mind will.
5.39. In a 26/11 like situation (Gods forbid!) does anyone have enough trust on AAP Govt to have Police under its control? Specially when their ideologues like Bhushan are so candidly affectionate to Jehadi terrorists of Kashmir. Answer is simply NO.
5.40. Kejriwal came to power on two primary planks. Justice from Incumbent corruption and prevailing insecurity for women in the City state. First one was dissolved immediately after he allied with the incumbent corrupt to form government and asked Leader of Opposition Dr. Harshvardhan for proof of corruption! The second one also miserably failed as their intent is not security for women but to dramatize.
5.41. The best suggestion an aam-aadmi can give to AAP can be the best real life solution too.
5.42. Let AAP create an empowered troop under Law & Order Dept for women security. Say, WPAF - Women Protection Action Force.
5.43. The primary responsibility of WPAF will be to reduce rapes, by increased patroling, vigilant record tracking and expediting legal actions in courts.
5.44. There can be a ministerial coordinator between WPAF and DP. As there will be areas of intersection and interference which need to be instantly resolved.
5.45. Then let's assess AAP's success in making Dilli rape-free by tagging it with WPAF's efficiency and strike rate. There is no point in bringing entire Dilli's Police Department under state.
6.
AAPonomics is more threatening than Sonianomics
5.46. AAP is predominantly a Red Force. And hence the last thing an ailing economy like India deserves. We have seen their disastrous effect in West Bengal and Tripura.
5.47. Sonia Gandhi's economics of freebies, turning Government into a maai-baap was the most relevant reason behind inversion of India Growth Story. And here comes a deadlier giant. One more Bolshevik taxman. Go to hell, Perestroika!
5.48. Free electricity? When rest of the nation pays for it despite producing it? This is a proposal to anarchy. This is outrageous. Inhabitants of electricity surplus state like Gujarat, that is also a champion of non-conventional sources of electricity, pays for it. Why because, fuels are limited. Fuels are finishing. It can not be a freebie to all.
5.49. How can Dilli, which is certainly not one of the 20 poorest states of India, without producing megawatts, consume it for free? Who will pay for it? AAP says, their government. I guess, by that they meant, Kejriwal's dowry money!
5.50. Well...what about free water? First 700 liters made free. Once you take 701, you pay for it all. Whoa. Whoa. What do you mean? Think of an affluent small family of 2, spouses working with MNCs, who is likely to make it within 700 liters of monthly consumption, need not pay anything.
5.51. But a poor migrant construction worker, with a family of 4 (spouses and 2 children) who has more metabolic need of water, will certainly consume more than 700 liters a month, will pay it all. What a relief! What a brainer it was. What an economics. #QuitAAP before it eats you up.